Measuring Tech ROI on the Farm
Precision agriculture technology is evolving from individual services or machine control devices to integrated systems of connected devices, data streams, service providers and decision-makers. Brian will talk about his experiences in forming a technology system on his farm and evaluating its financial returns at both the component and system level. Specifically, he will discuss the importance and interplay of key financial drivers affected by the technology such as operational efficiency, agronomic precision, decision support, and organizational leadership.
Speaker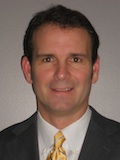 Watkins Farms
419-673-9424
Biography: Brian Watkins is a sixth generation grain and swine farmer from Ohio, raising 7000 acres of corn and soybeans along with 2800 sows farrow-to-finish. His precision ag experiences began in the mid 90's with yield-mapping and variable rate fertilizer application. He has since had experience with variable rate seeding, grid soil sampling, management zone sampling, Veris ec mapping, variable rate lime, and remote imaging, as well as RTK based machine control for steering, boom control, and surface and subsurface drainage. He also has emphasized the use of geo-referenced data as a source of value and decision support both for himself and on a cooperative level with other producers. Brian has a bachelors' degree in Ag Econ and recently completed an Executive MBA from the Fisher College at Ohio State.
Date
July 16, 2013 01:00pm
July 16, 2013 03:30pm
<< Return to conference program