Advantages of Aggregating Data
Precision agriculture has increased the potential for enhanced farm management. Literally millions of individual data points are collected annually, and most efforts to use these data have been focused on converting the mounds of data into decision-making information one-field-at-a-time. Opportunity exists to substantially increase the decision-making value of precision agriculture data if pooled together with others across the community of peers. Just like no individual farmer is large enough to influence market price of grain regardless of production level, even the largest farmers do not generate sufficient data adequate for the environmental-management interaction necessary for their production systems. Corporations rely upon "Big Data"; not just consumer product companies but ag input and equipment manufacturers. One way farmers can improve their competitive advantage with respect to business intelligence, is to aggregate their data together with their farmer-peers across their community. The value of information generated from isolated farmer-level data and pooled community-level data is compared and contrasted.
Speaker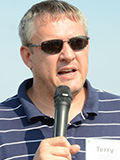 Cresco Ag, LLC
Vice President – Applied Economics
501.249.6360
Biography: A northeast Arkansas row crop farmer, Terry earned his Bachelors degree in Agronomy and Masters degree in Agricultural Economics from the University of Arkansas. He served as a farm management specialist for University of Illinois Extension where he was awarded two national awards from NASA 2002 and 2003; the GIS and Remote Sensing Decision Support Seminar and the Excellence Award in Remote Sensing and Precision Agriculture. He earned a Ph.D. in Agricultural Economics with emphases in spatial technologies for farm management from Purdue University where he developed methods to analyze site-specific yield monitor data from field-scale agricultural experiments using spatial statistical techniques. Terry returned to University of Arkansas as a professor of row crops economics specializing in utilizing spatial technologies to improve agricultural production systems and quality of farm-life and serving as Team Coordinator for the Working Group on Precision Agriculture. In 2012, Terry joined Cresco Ag as Vice President – Applied Economics where he provides tools for farm management decision making based on community analyses of farm-level data. Terry is a certified crop advisor (CCA), member of the American Society of Farm Managers and Rural Appraisers, and a charter member of the International Society of Precision Agriculture. He received the 2010 PrecisionAg Awards of Excellence for Researcher/Educator from Meister Media and the 2012 Conservation Systems Precision Ag Researcher of the year. Terry and Dana have two sons, Ty and Austin, and one daughter, Briley.
Date
July 16, 2013 02:00pm
July 16, 2013 04:30pm
<< Return to conference program