Variable Hybrid Planting
This talk will be focused on variable hybrid corn planting. Why, how, and where is it going? Through Beck's Practical Farm Research, we have been testing variable hybrid planting for the past two years. I will be showing our equipment used, prescription methods, and the value of changing corn hybrids automatically based on soil type or management zone changes.
Speaker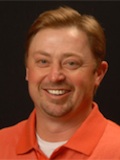 Becks Hybrids
Central IL Practical Farm Research Director
22797 US Highway 150
Downs, IL 61736
815-584-7711
Biography: Jason Webster is the Research Director for Becks Hybrids Central Illinois Practical Farm Research Center located in Downs, Illinois. Becks Hybrids is currently the 6th largest seed company and the largest family owned seed company in the United States. Jasons research in Illinois has focused on management options for farming operations. Farmers often dont have time to evaluate new products, procedures, or technologies. On-farm research is costly, time consuming, and often confusing. Thats why Becks Hybrids developed its Practical Farm Research (PFR)® program. This program conducts different on-farm studies to learn how different management practices and new technologies perform in growers own field environments. Simply put, its research focused with the farmer in mind. Jasons current research has focused on multi-hybrid corn planting over the past three years. Multi-Hybrid planting allows for the implementation of changing corn hybrids while planting, precisely placing each corn hybrid specific to individual site specific management zones.
Date
July 17, 2013 09:00am
July 17, 2013 01:30pm
<< Return to conference program