Precision Irrigation
Irrigation is an important component of agricultural production in many areas of world and the USA. However, irrigation is currently facing several challenges. For example, the competition for water resources is becoming more intense, limiting water available for irrigation. At the same time, water and environmental regulations are becoming more restricting to traditional irrigation. Therefore, there is a need for traditional irrigation to be replaced by precision irrigation technology to meet these new challenges. This presentation will focus on precision on-farm irrigation technology, including sensor-based irrigation and site-specific irrigation technology.
Speaker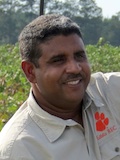 Clemson University
Agronomic Crops and Irrigation Specialist
Edisto Research and Education Center
Blackville, SC 29817
803-284-3343
Biography: Dr. Payero has a Bachelor degree in Agronomy, a Masters of Science degree in Agriculture-Plant Science and a Ph.D. in Irrigation Engineering. He has more than 25 years of experience in irrigation water management, including research, extension and teaching in the USA, Australia, Costa Rica, and The Dominican Republic. In the USA he is current working as an irrigation specialist with Clemson University in South Carolina, where he is leading several irrigation research and extension projects. He also worked in irrigation research and extension as an Assistant Professor for the University of Nebraska-Lincoln. He recently spent seven years in Australia working in irrigation research as a Senior Research Fellow for the University of Queensland, and as a Principal Research Scientist for the Queensland Department of Employment, Economic Development and Innovation (DEEDI). He worked many years in irrigation management in Latin America, where he held academic positions in Costa Rica (Earth University) and The Dominican Republic (Universidad ISA).
Date
July 17, 2013 08:00am
July 17, 2013 12:30pm
<< Return to conference program