iCropTrak – Mobile Processing That Rivals Your Desktop
iCropTrak is a mobile farm app that enables our customers to focus on being near the work where ever that maybe. To succeed in this goal, iCroptrak can perform on the iPad the same tasks other software vendors require a cloud or desktop computer to perform. This has long-term impacts on how work will be performed on the farm of the near future. Come hear how iCropTrak being different will change how you think about farming.
Speaker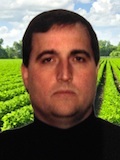 Cogent 3D
President and Co-founder
9121 E. Tanque Verde Rd #181
(520) 445-8022 Ext. 104
Biography: Aaron Hutchinson is co-founder of Cogent3D, Inc. He calls Tucson, Arizona home. He has degrees in Computer and Electrical Engineering from University of Central Florida. He has been working with mobile GIS and drone imagery for over 25 years in military and commercial applications. He enjoys anything outdoors from mountaineering to fishing and spending time with clients in the fields.
Date
July 29, 2015 04:00pm
<< Return to conference program