Managing your operation in the cloud with AgFiniti
AgFiniti, Ag Leader's cloud-based platform, allows you to maintain ownership and control of your precision operation in the cloud. AgFiniti gives you the ability to view, transfer, and share your data under your terms. Precision displays can be viewed remotely within the web portal for more efficient troubleshooting. AgFiniti gives you the control and flexibility to manage your operation more precisely.
Speaker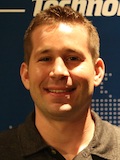 Ag Leader Technology
Sales Manager – Software Solutions
2202 South Riverside Drive
Ames, IA 50010
515-232-5363
Biography: Luke James has over 8 years of experience at Ag Leader Technology and currently serves as the Sales Manager for Ag Leaders Software Solutions including SMS desktop/mobile software and Ag Leaders Cloud-Based Platform, AgFiniti.
Date
July 29, 2015 03:00pm
<< Return to conference program