RapidEye Satellite Imagery on Demand
BlackBridge Monitoring Program for Agriculture leverages the RapidEye constellation of 5 identical satellites, which image up to 5 million km² every day. The program provides access to an enormous pool of 5-meter, 5-band in-season imagery allowing for accurate and timely extraction of crop-relevant information. BlackBridge's cloud-based delivery and discovery solution lets subscribers have fast and easy access to the acquired imagery over their areas of interest shortly after collection in addition to archived imagery from previous seasons.
Speaker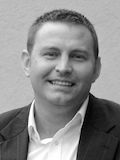 BlackBridge
Director – North America, the U.K. & Ireland
1001 19th Street North
Arlington, VA 22209
800-940-3617
Biography: Clint is the Director of North America, the U.K. and Ireland at BlackBridge, which owns and operates the RapidEye constellation of five identical satellites used to monitor agriculture. He has played a leading role in the development of BlackBridge s monitoring programs that began in the U.S. Corn Belt and have grown to include major agriculture production regions across the globe. Clint spends much of his time focused on the integration of satellite imagery with technology platforms from Ag tech firms who serve the agricultural markets addressing crop intelligence, production agriculture, precision agriculture and crop insurance.
Date
July 30, 2015 09:00am
<< Return to conference program