White Paper on Status of Precision Agriculture Education
The Precision Ag Institute is working with Terry Brase on the development of a White Paper describing the current status of education in precision agriculture. A final draft of this white paper will be presented and then discussed in open forum during this workshop. The white paper will address issues such as collaboration between colleges, cooperation with industry, certifications, and defining skills and competencies needed by graduates. Educators and industry representatives interested in precision ag education are welcome to attend.
Speaker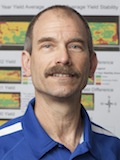 BrASE LLC
Educational Consultant
319 855 2887
Biography: Terry Brase, Educational Consultant and Managing Owner of BrASE LLC, provides expertise to colleges and businesses in developing educational programs in agricultural geospatial technology. Brase is also Professor Emeritus (retired) of Ag Geospatial Technology at Kirkwood Community College in Cedar Rapids, Iowa where he taught courses such as Precision Ag Hardware, Remote Sensing, and Agricultural Spatial Analysis. For over 20 years he has been exploring and working toward practical applications of emerging technology in agriculture. In 2001 he was the originator and Principal Investigator of AgrowKnowledge, the National Center for Science and Technology in Agriculture.
Date
July 30, 2015 09:00am
<< Return to conference program