Iowa AgState Report on Digital Agriculture
Leading Iowa farm organizations, agribusinesses, state government and Iowa State University have developed comprehensive action steps to help harness the power of agricultural data to the benefit of farmers. This presentation will cover the key outcomes of this report including plans for continuous, ongoing education for farmers, ag retailers, and policy makers, support for farmer-controlled data warehousing, and the need for assessment tools for new products, services, and business models in the digital agriculture marketplace.
Speaker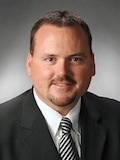 Iowa State University
Associate Professor
515-294-8545
Biography: Matt Darr is an associate professor in the Agricultural and Biosystems Engineering department at Iowa State University. Since arriving at ISU in 2008 he has developed a research program which focuses on innovations in agricultural machinery and agricultural data analytics. He currently manages a team of 26 university professionals who provide leadership to a range of ag machinery topics including precision agriculture, telematics data analytics, unmanned aerial systems, and next generation machinery automation. In addition to his research assignment, Matt is the lead instructor for ISU courses in precision agriculture and agricultural machinery electronics engineering.
Date
July 29, 2015 01:30pm
<< Return to conference program