ASA - Precision Ag Community
An update on the science of precision ag and the latest efforts of the U.S. research community.
Speaker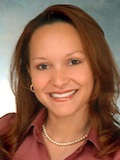 Auburn University
Assistant Professor and Extension Specialist
334-844-5534
Biography: Brenda V. Ortiz with a Ph.D. is in Agricultural Engineering from The University of Georgia is currently an Assistant Professor in the Department of Agronomy and Soils Department at Auburn University (USA). Dr. Ortiz is responsible for research and extension in Grain Crops, Precision Agriculture and Agroclimatology. She has particular expertise in crop growth modeling, spatial statistics and remote sensing. During the last years she has been focusing on studying the impact of weather and climate on row and forage crops, use of crop growth modeling to evaluate different management strategies for improving row crops production, evaluation of different management practices to reduce aflatoxin contamination in corn, and the use of remote sensing technologies for variable rate application of nitrogen. She is currently leading the Climate Extension program of the Alabama Cooperative Extension System.
Date
July 28, 2015 03:30pm
<< Return to conference program