Controlled Traffic, Drainage, and Input Management – Current and Future Opportunities
Bob Stewart will share his farm's experiences with utilizing RTK based GPS systems for controlled traffic systems, drainage, and input management. He will cover the challenges and the successes he has seen with implementing a 60ft center controlled traffic pattern on his family's farm. Stewart Farm combines the use of tracked equipment and controlled traffic to manage soil compaction. Bob also will cover the significant opportunities he sees for GPS solutions in managing soil drainage. Stewart Farms does its own surface and sub-subsurface drainage work. Bob will finish the presentation with a summary of future opportunities in precision agriculture.
Speaker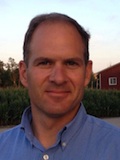 Stewart Farms
Managing Partner
630-606-0689
Biography: Bob Stewart is a managing partner in his family's grain farming operation, Stewart Farms (www.stewart-farms.com). Headquartered in Yorkville, Illinois, Stewart Farms covers 8,500 acres with land bases in central and northern Illinois. Stewart Farms has been using RTK based auto steering systems for the last 11 years. Stewart Farms utilizes controlled traffic patterns and rubber tracked equipment to carefully manage soil compaction. The farm also designs and installs its own drainage systems utilizing RTK based GPS. Bob received a B.S. Degree and a M.S. Degree in Agricultural Economics from the University of Illinois.
Date
July 29, 2015 09:00am
July 29, 2015 03:00pm
<< Return to conference program