Understanding, Analyzing, and Decision Making from Mapped Yield Data
Yield monitoring and mapping is by far the most popular precision agriculture practice around the planet. It provides invaluable information on both, scale and location of variability, in crop fields. Yet, farmers and practitioners struggle to translate 'data' collected via yield mapping into 'information' to 'decision' making. This presentation will walk you through the process of yield mapping, calculating instantaneous yields, eliminating errors in yield map, and transforming multiple years of yield data into decision maps.
Speaker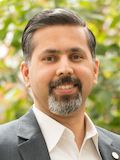 Colorado State University
Professor of Precision Agriculture
Dept. of Soil and Crop Sciences
(970) 491-1920
Biography: Dr. Raj Khosla is CSU Monfort Professor of Precision Agriculture at Colorado State University (CSU). In 2012, he was named the Jefferson Science Fellow at the U.S. National Academy of Sciences. In 2011, he was appointed by NASA to the US "Presidential Advisory Board on Positioning, Navigation and Timing" to work on US Space based GPS policy. Dr. Khoslas main research focus has been on "Management of in-field soil and crop spatial variability in large and small scale agricultural production systems". He is a Fellow of American Society of Agronomy; Fellow of Soil Science Society of America; and Fellow of Soil and Water Conservation Society. Prof. Khosla is the Founder and the immediate Past President of International Society of Precision Agriculture.
Date
July 29, 2015 09:00am
July 29, 2015 03:00pm
<< Return to conference program