Multi-Genetic Planting
Jason's talk will focus on multi-genetic planting, a new technology that allows the ability for precision placement of seed genetics. We will talk on how Beck's Hybrids got started with this technology, as well as its future in the marketplace. Beck's Hybrids has just started its 4th crop season of testing multi-genetic planting. Multi-year yield data will be discussed on the benefits of precision placement of the correct genetics on every acre. A large focus will be also be concentrated on the overall economics of a multi-genetic planting system. Multi-genetic planters are now commercially available for farmers for the first time and given the fact that Beck's Hybrids now has a 3-year dataset of yields from this technology, we can now review the break-even economics of how long it will take for a multi-genetic system to pay for itself on the farm.
Speaker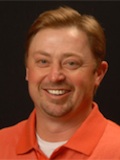 Becks Hybrids
Central IL Practical Farm Research Director
22797 US Highway 150
Downs, IL 61736
815-584-7711
Biography: Jason Webster is the Research Director for Becks Hybrids Central Illinois Practical Farm Research Center located in Downs, Illinois. Becks Hybrids is currently the 6th largest seed company and the largest family owned seed company in the United States. Jasons research in Illinois has focused on management options for farming operations. Farmers often dont have time to evaluate new products, procedures, or technologies. On-farm research is costly, time consuming, and often confusing. Thats why Becks Hybrids developed its Practical Farm Research (PFR)® program. This program conducts different on-farm studies to learn how different management practices and new technologies perform in growers own field environments. Simply put, its research focused with the farmer in mind. Jasons current research has focused on multi-hybrid corn planting over the past three years. Multi-Hybrid planting allows for the implementation of changing corn hybrids while planting, precisely placing each corn hybrid specific to individual site specific management zones.
Date
July 28, 2015 02:00pm
July 28, 2015 04:30pm
<< Return to conference program