Practical approach to Unmanned Aerial Systems
Attendees will be shown the practical application to this new tool for producers. New technology is always a challenge for the first few years, understand why 2015 could become the break though year for Unmanned Aerial Systems.
Speaker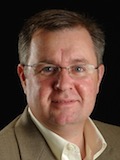 360 Yield Center
309-361-5564
Biography: When someone wants to know about the state of the art in UAV technology or policy in agriculture, Chad Colby is the âœgo-to guyâ. He combines his experience and passion for farming, aviation and technology to provide insights into this rapidly evolving farm tool. Chad was raised on a Bureau County, Illinois grain farm. He lead a California-based aviation construction company that designed airport hanger projects and became a pilot. He returned to Illinois and became immersed in precision agriculture, first at Precision Planting, then as a Integrated Solutions Manager and Marketing Manager for one of the nations largest John Deere dealers. When customers learned that Chad had a plane, they wanted to fly their fields. So while Chad understood that the airplanes birds-eye perspective was an ideal scouting tool, he also new that the plane was not efficient ┠owning and flying an aircraft is time-consuming and expensive. His quest to streamline this service led him to unmanned aerial systems. He has been active in providing the industry with a better understanding of this emerging technology at events such as the Unmanned Systems 2015 Conference by AUVSI where he presented âœModern Agriculture, a Future Driven by Technology❠and other events such as the 2014 Precision Aerial Ag Show and Ag PhD Field Day at Hefty Farm. He also appears often on âœThis Week in Agribusiness❠where he presents a segment called Ag Tech Talk. Colby is also applying his unmanned aerial systems knowledge in his as Product Support Lead for Gregg Sauders 360 Yield Center (360yieldcenter.com). 360 Yield Center combines tools that sense the crops needs with new tools that allow for more timely application of nutrient and plant health solutions. Chad resides in Goodfield, Illinois with his wife Karen (partner at the consulting firm of McGillicuddy Corrigan Agronomics) and daughters Bristol and Mara.
Files
- No files uploaded -
Date
July 29, 2015 09:00am
<< Return to conference program