Agrifying Weather Data: Making a Difference in Precision Farming
The main daily topic of conversation for a farmer is about the weather. Many have resolved that the weather is unpredictable, citing the local forecaster from their nightly news as always being wrong for their field. What many don't realize is how accurate and precise weather data has become, down to a 250 yard scale. Understanding what weather events have impacted fields in past season can help farmers react quicker to changing weather conditions with their prescriptions allowing for good yields even in tough growing seasons. WDT has pioneered increasing the resolution of our weather data globally especially in the realm of precipitation data. At WDT we provide the entire solution from historical weather data on your field to forecasts going out 60 days to provide guidance on drought conditions especially.
Speaker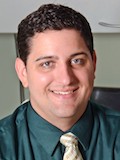 Weather Decision Technologies
Meteorological Business Development
201 David L. Boren Dr Suite 270
Norman, OK 73071
4058013940
Biography: Tim Marquis received his Master of Science in summer 2013 and is currently head of Agriculture Business Development at Weather Decision Technologies (WDT). Previously, he was a meteorological developer at Weather Decision Technologies and a teaching assistant in 2011/2012 for senior level Synoptic meteorology and Mesoscale meteorology at Iowa State. Tim received coursework with ties to precision agriculture while at Iowa State. His thesis was on investigating the development of Mesoscale Convective Systems in numerical weather prediction models, a key meteorological phenomenon that supports agriculture across the farm belt of the United States. He provided forecasting and now casting information for Iowa State Athletic events as well as consultation work for storm ready certification while at Iowa State.
Date
July 28, 2015 04:30pm
<< Return to conference program