20 Years of Using Precision Ag Tools to Build a Knowledge-Based Business
The September-October,1994 issue of the Harvard Business Review featured the article entitled, "The Coming of Knowledge-Based Business" by Stan Davis and Jim Botkin. You can download that article from this link:
https://hbr.org/1994/09/the-coming-of-knowledge-based-business
. This article discussed how
Data
would become
Information
and be turned into
Knowledge
and predicted farmers would be building their own knowledge-based businesses over the next two decades…and that is what has happened.
This presentation will highlight the journey of nine Midwest farms as their teams adopted precision ag technology. All of these farms are Innovators/venturesome techies and Early Adopters/visionaries who are community leaders, are willing to take risks that new technology may not work correctly at first, and who look forward and lean in to using new technology. These farms have been living the meaning of building their knowledge-based businesses.
Speaker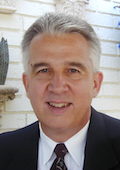 Olson & Associates, LLC
President
5208 Laurel Pointe Dr.
Valrico, FL 33596
813-294-5998
Biography: Ron Olson is the President of Olson & Associates, LLC, an agri-business/agvocacy consulting group. Prior to Olson & Associates Ron was the North America Senior Agronomist for The Mosaic Company and Research & Development Manager for Cargill Crop Nutrition. During his time with Cargill/Mosaic Ron led the team that developed the MicroEssentials suite of fertilizers. Ron was an educator and owner of an agronomic consulting business. In 1990 that business was one of the first companies to assist farmers with GPS-based 2.5 acre grid soil sampling, VRT seeding and fertilizer applications, and yield mapping. He holds a B.S. degree in both Agronomy and Education from the University of Illinois and an M.S. degree in Environmental Science from Governors State University in University Park, IL.
Date
July 28, 2015 01:00pm
July 28, 2015 03:30pm
<< Return to conference program