PrecisionAg Awards Presentations
The CropLife Awards of Excellence profile some of the most active participants in our industry. Paul Schrimpf will announce the winners and pass out the hardware to the winner in each of four categories: Extension/Research, Crop Adviser/Entreprenuer, Farmer, and Legacy.
Speaker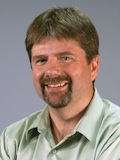 CropLife Media Group
Group Editor
440-942-2000 x142
Biography: Paul is the Group Editor for the CropLife Media Group at Meister Media Worldwide, with full editorial responsibility for CropLife, CropLife IRON, and Farm Chemicals International.
Date
July 28, 2015 09:00am
<< Return to conference program