4 Rs Are Not Enough
4 Rs Are Not Enough: We Need 7 Rs for Nutrient Management and Soil and Water Conservation
The concept of precision farming has been around for about the last two decades and big steps forward have been achieved. The 4Rs concept is viewed as the method to increase nutrient use efficiency while reducing nutrient losses and impacts to the environment. This presentation aims to bring to the forefront the need to incorporate precision conservation to improve nutrient management, reduce off-site transport of nutrients, and minimize off-site impacts. This presentation covers the Delgado (2015) publication that proposes that the 4Rs (right product, at the right rate, at the right time, and at the right place) are not enough to reduce environmental impacts. There is a need to bring precision conservation to the forefront of precision farming and use 7 Rs (right product, right rate, right method, right practice, right place, right scale, and right time) for nutrient management and soil and water conservation. Nutrient management and conservation need to go together in the same plan.
Speaker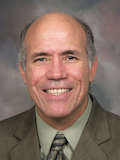 USDA Agricultural Research Service Soil-Plant-Nutrient Research Unit
Acting Research Leader
2150 Centre Ave. Bldg. D Suite 100
970-492-7260
Biography: Jorge A. Delgado is an Acting Research Leader with USDA-ARS and a Fellow of the ASA, SSSA, and SWCS. Dr. Delgado received his B.S. degree from the University of Puerto Rico, and his M.S. and Ph.D. from Louisiana State University. He has been Research Editor of the Journal of Soil and Water Conservation since 2001. He is a national/international leader in the field of nitrogen management and an expert in developing new concepts and applying software tools and cover crops for soil and water conservation, increasing farm-level nitrogen use efficiencies. He has published 200+ publications.
Date
July 28, 2015 01:00pm
<< Return to conference program