Adapting Precision Technologies to the Management of Soil Health
This presentation will provide a framework for soil health assessment as well as a discussion of temporal and spatial variability in soil health characteristics. This will be followed by a discussion about precision management may be applied to improve the effciency of management options to improve soil health.
Speaker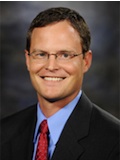 Oklahoma State University
Assistant Professor Soil and Water Conservation/Management
OSU Department of Plant and Soil Sciences
Stillwater, OK 74078-6028
(405) 744-1721
Biography: Jason Warren currently serves on the faculty of Oklahoma State University as an assistant professor, and soil and water conservation/management extension specialist. Jason grew up on a small grain and cattle farm in Woods Co. OK. He earned a B.S. degree in Environmental Sciences in 1999 and M.S. in Plant and Soil Sciences in 2001 at Oklahoma State University. Jason continued his education at Virginia Tech, where he obtained a Ph.D. in Crop and Soil Environmental Sciences in 2005 and then spent two years as a Post Doctoral Research Soil Scientist at the USDA-ARS Animal Waste Management Research Unit in Bowling Green, KY. Dr. Warrenâ™s research and extension efforts will focus on management practices to reduce soil erosion and improve soil quality in both the agricultural and urban andscapes. He will also be engaged in activities aimed at increasing water use efficiency and reducing the transport of contaminates to surface and subsurface waters.
Date
July 28, 2015 01:00pm
<< Return to conference program