Decision Tools using Agronomic, Climatic, and Economic Information from U2U
A hands-on workshop exploring the agricultural decision tools from U2U. The featured tools outline historical weather patterns and normals, examine the likelihood of freezes and heat stress on the growing crops, explore the relationship among climate cycles and crop production, and investigate the costs/benefits of spring fertilizer applications.
Speaker
University of Illinois State Water Survey
State Climatologist
217-333-0729
Biography: Jim Angel is the State Climatologist with the University of Illinois and does tool development and outreach with the Useful to Usable (U2U) project. Jim is originally from Missouri, but has strong family ties to western Illinois were his grandparents farmed. Jim has been the Illinois State Climatologist since 1997, after working at the Illinois State Water Survey since 1984. He has a broad interest in all things related to weather and climate, including droughts, floods, winter storms, heat waves, and long-term climate change (past, present, and future). His interest in U2U and the decision support tools comes from his extensive interactions in agriculture in Illinois over the years. Besides research, he works with a wide range of users and stakeholders, including students, teachers, homeowners, engineers, other scientists, farmers, as well as federal, state, and local officials on issues related to climate. He maintains this website, a blog, and twitter feed for addressing a wide variety of climate topics as they pertain to Illinois.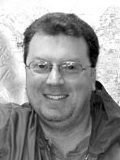 Iowa State University
Associate Professor of Economics Crop Markets Specialist Extension Economist
478F Heady Hall
Ames, IA 50011-1070
(515) 294-9911
Biography: Prior to joining the faculty, Dr. Chad Hart was the U.S. Policy and Insurance Analyst with the Food and Agricultural Policy Research Institute (FAPRI) and a Scientist with the Center for Agricultural and Rural Development (CARD) at Iowa State University. For FAPRI, he was responsible for directing econometric and modeling efforts for the crop insurance component of the FAPRI modeling system and he has engaged in research examining the interaction between the agricultural commitments within the World Trade Organization (WTO) and the agricultural policies and programs of WTO members. For CARD, Dr. Hart served as head of the Biorenewables Policy Division and examined the interactions between the agricultural and energy sectors. Dr. Hart is a partner in Farm Risk, an Iowa firm that develops revenue insurance products and receives a small amount of revenue based on Livestock Gross Margin policies sold by other companies. Dr. Hart received a B.S. in economics with minors in mathematics, history, and astronomy from Southwest Missouri State University in 1991. He received his Ph.D. in economics and statistics in 1999 from Iowa State University.
Date
July 29, 2015 12:30pm
July 29, 2015 01:30pm
<< Return to conference program