Asilomar Bio
Asilomar Bio develops crop protection chemistry to help growers deal with environmental stress in the field, one of the biggest constraints on yield. We have discovered a compound that enhances the ability of crops to access water and tolerate drought stress, leading to healthier plants and increased yields. We are developing this technology into a product that will enable growers to maintain yields and margins in challenging conditions. There is an exciting potential for using this chemistry along with integrated analysis of real-time data and precision application to sense and respond to changing weather during the growing season.
Speaker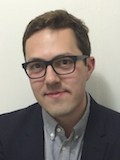 Asilomar Bio, Inc.
Chief Technology Officer
953 Indiana Street
San Francisco, CA 94107
415-629-0044
Biography: Dr. Travis Bayer is a co-founder and Chief Technology Officer at Asilomar Bio, Inc., a company developing chemical technologies for improving crop yield and water efficiency in field crops. He is a biochemist with experience developing technologies for the agriculture, bioprocessing, fine chemicals, energy, and mining sectors. Before founding Asilomar, he was an Associate Professor at the University of Oxford. He was recently named the Most Promising Innovator of the Year by the Biotechnology and Biological Sciences Research Council of the UK.
Date
July 29, 2015 03:00pm
<< Return to conference program