Weed Control: Robotics and Agriculture Automation
Blue River Technology is developing smart implements that provide an alternative to the expensive and environmentally damaging practices of chemical-intensive agriculture. With breakthrough computer vision techniques for identifying weeds and selective robotics for elimination of unwanted plants, Blue River Technology's equipment is significantly more efficient than traditional methods of weed control. Our automated solution is particularly well-suited for fields with herbicide-resistant weeds and for organic production.
Speaker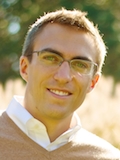 Blue River Technology
VP Business Development
355 E. Middlefield Rd
Mountain View, CA 94043
408-733-2583
Biography: Ben Chostner joined Blue River in its early days and has played a key role in bringing the technology to life by linking farmer needs to product development. Ben now spends his time at Blue River forming technology strategy for further commercialization. He is passionate about working towards a sustainable agriculture future. Previously, Ben helped Fortune 100 companies tackle challenging problems in his role as a strategy consultant with the Boston Consulting Group. He earned a BS Mechanical Engineering from University of Illinois and an MBA from Harvard Business School. Ben grew up in northern Illinois and comes from a long line of Illinois farmers.
Date
July 29, 2015 03:00pm
<< Return to conference program