Aerial Platform Innovations
Sky Imaging Mapping Data installs many multi-spectral cameras for Precision Ag, and will present the Canon 51 MP (MegaPixel) 5DS as an FAA approved aerial camera on Cessna 152, 172, 182, 206, and most helicopters. Medium format resolution for Precision Ag is simple and very low operational cost: 5 inch GSD multispectral NIR imagery with 70% overlap for NDVIs can be down to one penny per acre on large projects. An STC quickly integrates Canons and most any camera, or hyperspectral system, onto 60+ aircraft, domestically & worldwide: FAA, EASA (European Aviation Safety Agency), and ANAC (Agência Nacional de Aviação Civil). Pilots can remove/swap cameras in minutes. A Cessna with one camera is substantially more versatile than a drone due to lower cost of operation, legal in all airspace, larger imaging payload and longer flight plans, yet up to three camera pods are supported on a single Skyhawk.
Speaker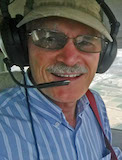 Sky Imaging Mapping Data
COO
650-610-1560
Biography: Mark Zaller is Chief Operating Officer for Sky Imaging Mapping Data, and a farmer for 20 years. SkyIMD produces Precision AG kits approved worldwide (FAA STC, EASA, ANAC) for airplanes and helicopters to very inexpensively capture multispectral NDVI bands. One Canon camera will capture 60,000 acres a day at 5 inch resolution with 70% overlap, but up to three camera pods on a simple Cessna can automatically capture 50,000 by 8,000 pixel swath (RGB or NIR) with centimeter resolution, or hundreds of thousands acres per day at one foot. Pods can also hold hyperspectral, gyro-stabilized superzoom HD gimbals, thermal middle and long wave infrared (LWIR and MWIR) systems.
Date
July 30, 2015 10:00am
<< Return to conference program