The Top 3 Emerging Legal Issues That Will Impact the Precision Ag Business
The precision ag industry touches virtually all aspects of agriculture from farm to fork. Awareness of important changes in the legal landscape will help minimize risk and add value to your company. This year there are 3 important emerging legal issues that should be on the radar of those who work in or with precision ag, as well as those who own precision ag-relate companies. (1) Human Trafficking—new federal regulations concerning human trafficking are applicable to companies with government contracts, as well as those who provide services to or are in the service provider chain for those companies. Proactive steps can help avoid fines and other legal risks down the road. (2) Drone Data Use—Now that we are close to full implementation of use of drones in agriculture, focus should turn to the associated risks (including risks associated with Waters of the US (WOTUS) and best practices to avoid them. (3) Big Data Ownership and Protection--A lot of attention has been placed on "Big Data" and who owns it. A focus now on best practices will help prevent future litigation and minimize risks. Husch Blackwell LLP attorneys and a former FBI agent will provide legal highlights concerning these three issues so to assist attendees in spotting issues of risk and take steps to minimize financial loss.
Speaker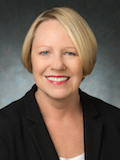 Husch Blackwell LLP
Attorney
816.983.8000
Biography: A member of Husch Blackwells Food & Agribusiness team, Joan counsels clients on areas of business risk, as well as global intellectual property protection. Joan has expertise in addressing data ownership and collection issues facing precision ag companies, and speaks frequently on risks association with "Big Data," as well as legal solutions. She has significant first chair trial experience, having represented food and agribusiness companies in a variety of complex business and intellectual property disputes. She was named one of the top 50 women attorneys in Kansas and Missouri by Super Lawyers, was named Intellectual Property Attorney of the Year by the Kansas Bar, among other awards. Joan also is a member of the Council (Board of Directors) of the American Bar Association Section of Litigation and serves on the International Trademark Associations Oppositions and Enforcement Committee.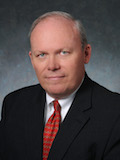 Husch Blackwell LLP
Partner
190 Carondelet Plaza, Suite
314-480-1842
Biography: A member of Husch Blackwells Food & Agribusiness team, Bobs practice includes environmental, safety and health compliance, permitting and enforcement defense. He represents large domestic and international clients in the agricultural industry engaged in all aspects of seed, fertilizer and pesticide manufacturing and distribution. In addition, he has experience with environmental issues related to farming and ranching operations, including waste management, odor and air pollution issues, point and nonpoint source water discharges to surface and ground water, and emerging environmental opportunities and issues related to precision agriculture and the use of drones.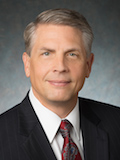 Husch Blackwell LLP
Special Investigator
4801 Main Street, Suite 1000
Kansas City, MO 64112-2551
816.983.8391
Biography: A former FBI special agent for more than 30 years, Chris is an honored and respected investigative agent across the country. While with the FBI, Chris was a Special Agent in charge of human trafficking investigations. In addition to his investigative skills, Chris has passed all parts of the Certified Public Accounting (CPA) examination. His broad base of experience includes complicated multi-national, national and regional criminal investigations with an emphasis in white-collar and financial crime, public corruption, health care fraud, organized crime, money laundering, criminal enterprise investigations and civil rights. In private practice, Chris partners with attorneys on Husch Blackwells Government Compliance, Investigations & Litigation team to investigate both criminal and civil matters and leads internal investigations on behalf of companies and healthcare entities. He also specializes in matters related to the new federal regulations on human trafficking that may affect agriculture-related companies.
Date
July 30, 2015 10:00am
<< Return to conference program