Practical Applications of Remote Sensing Data in Wine Grape Production
E&J Gallo Winery uses remote sensing data to support decision making events in vineyard management and wine grape production in general. Hear how vineyard managers and technical support personnel work with providers to get the right information at the right time to optimize fruit quantity and quality.
Speaker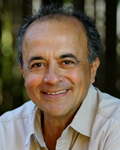 E & J Gallo Winery
Senior Research Scientist
209-613-3347
Biography: Luis is a Senior Research Viticulturist with E&J Gallo Winery at Modesto, California. During the last 11 years he has worked on many research projects on irrigation, mineral nutrition, extended maturation, aroma development, bud fruitfulness, and yield estimation. More recently his work has focused on understanding vineyard variability with tools such as remote sensing, yield monitors and other proximal and contact sensors to establish the bases for precision viticulture. This work includes the introduction of large scale yield mapping to California vineyards and the establishment of a modular, variable rate irrigation system prototype, watering 140 different zones scheduled using Landsat data. Luis has a degree in Agronomy from the National University of Colombia, an MS in Plant Science from UC Riverside and a PhD in Plant Biology from UC Davis. His experience in research and consulting is very diverse and includes breeding and cultural practices in tropical fruit production, integrated pest management in citrus, avocado, grapes and vegetables, breeding in dry beans and guayule, consulting, sales and networking with agribusinesses in Latin America, winemaking and vineyard employee education.
Date
July 29, 2015 08:00am
<< Return to conference program