How FarmLogs Powers the Intelligent Farm
A behind the scenes look into what it takes to create new, meaningful technology products for the modern farm. This session will highlight the FarmLogs platform and why over 80,000 farms trust FarmLogs' field monitoring solution to power their operation. Learn about how recent advancements in technology can accelerate the adoption of precision agriculture, increase farm profitability, and dramatically simplify farm operations.
Speaker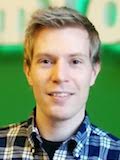 FarmLogs
Co-Founder and CEO
410 N. 4th Ave. 2nd Floor
(650) 318-5293
Biography: Jesse Vollmar is co-founder and CEO of FarmLogs, the leading data science company focused on helping farmers make their fields more profitable. A pioneer in digital farm management, he launched FarmLogs in 2012 out of Silicon Valley's prestigious Y Combinator to transform the oldest and most important industry in the world with cutting-edge software and data science. In less than three years, Vollmar has grown the company to over $20 billion in crops under management and has raised $15 million in capital. Today, over 25 percent of U.S. row crop farms utilize the companys secure web and mobile technology solutions to make real-time field-level decisions, maximizing productivity and profitability. Vollmar grew up on his family's fifth-generation farm in Michigan and co-founded a successful IT consulting business while still in high school, which grew to over $350,000 annual revenue in less than five years. He graduated from Saginaw Valley State University with a BS in Computer Information Systems. Vollmar was named to the Forbes "30 under 30" list in 2014.
Date
July 30, 2015 09:00am
<< Return to conference program