InfoAg 2015 Session
Weather Data Sources
| | |
| --- | --- |
| Moderator | : Mary Tangen |
| Date/Time | : Tuesday, July 28, 2015 | 4:30pm - 5:20pm |
| Room | : Regency C |
Speaker
University of Illinois State Water Survey
2204 Griffith Drive
Champaign, 61820
217-333-0729
Biography :
Jim Angel is the State Climatologist with the University of Illinois and does tool development and outreach with the Useful to Usable (U2U) project. Jim is originally from Missouri, but has strong family ties to western Illinois were his grandparents farmed. Jim has been the Illinois State Climatologist since 1997, after working at the Illinois State Water Survey since 1984. He has a broad interest in all things related to weather and climate, including droughts, floods, winter storms, heat waves, and long-term climate change (past, present, and future). His interest in U2U and the decision support tools comes from his extensive interactions in agriculture in Illinois over the years. Besides research, he works with a wide range of users and stakeholders, including students, teachers, homeowners, engineers, other scientists, farmers, as well as federal, state, and local officials on issues related to climate. He maintains this website, a blog, and twitter feed for addressing a wide variety of climate topics as they pertain to Illinois.
ACE Tools: Decision Tools using Agronomic, Climatic, and Economic Information from U2U. The featured tools outline historical weather patterns and normals, examine the likelihood of freezes and heat stress on the growing crops, explore the relationship among climate cycles and crop production, and investigate the costs/benefits of spring fertilizer applications.
Speaker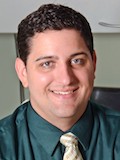 Weather Decision Technologies
201 David L. Boren Dr Suite 270
Norman, 73071
4058013940
Biography :
Tim Marquis received his Master of Science in summer 2013 and is currently head of Agriculture Business Development at Weather Decision Technologies (WDT). Previously, he was a meteorological developer at Weather Decision Technologies and a teaching assistant in 2011/2012 for senior level Synoptic meteorology and Mesoscale meteorology at Iowa State. Tim received coursework with ties to precision agriculture while at Iowa State. His thesis was on investigating the development of Mesoscale Convective Systems in numerical weather prediction models, a key meteorological phenomenon that supports agriculture across the farm belt of the United States. He provided forecasting and now casting information for Iowa State Athletic events as well as consultation work for storm ready certification while at Iowa State.
The main daily topic of conversation for a farmer is about the weather. Many have resolved that the weather is unpredictable, citing the local forecaster from their nightly news as always being wrong for their field. What many don't realize is how accurate and precise weather data has become, down to a 250 yard scale. Understanding what weather events have impacted fields in past season can help farmers react quicker to changing weather conditions with their prescriptions allowing for good yields even in tough growing seasons. WDT has pioneered increasing the resolution of our weather data globally especially in the realm of precipitation data. At WDT we provide the entire solution from historical weather data on your field to forecasts going out 60 days to provide guidance on drought conditions especially.
« Return to program