InfoAg 2015 Session
Innovation Forum continued
| | |
| --- | --- |
| Moderator | : Clay Mitchell |
| Date/Time | : Wednesday, July 29, 2015 | 4:00pm - 4:50pm |
| Room | : Midway Suites |
Speaker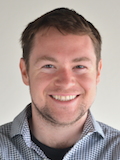 Swift Navigation
2148 3rd St.
San Francisco, 94107
Biography :
Timothy Harris is co-founder and CEO of Swift Navigation, developers of a low-cost centimeter-accurate RTK GPS for machine control and data collection. Tim began his career optimizing supply chains and factory operations for SAP. At Swift, he is driven to provide the same level of automation and data analysis to agriculture as he encountered in industrial automation. Previously, Tim worked in corporate finance and is a lawyer in his home state of California. He holds a JD from Boston University and a BA from the University of California, Berkeley.
High Accuracy RTK GPS has long been a mainstay in precision agriculture. Until now, RTK has been limited to the high-end applications on the farm. Through a novel approach to RTK, Swift Navigation is providing high accuracy positioning to a range of new applications in precision agriculture, and brining down the cost of autosteer for an increasingly automated farm. With low cost, high accuracy GPS, Swift is putting more precision in precision agriculture.
Speaker

Biography :
Emily is a product team leader responsible for defining and delivering the operations-focused planning, tracking and analytical tools within Granular's farm management software. Emily has managed software product teams in a variety of industries including media, publishing and education. Emily brings to the table her experience in building everything from scalable reporting systems, to real-time analytics tools to carefully crafted consumer experiences. At Granular, Emily works closely with operations teams to help them better manage their resources, as well as with ag partners to bring valuable data and tools into the Granular system where it benefits day to day operations decision making. Emily holds a BS in Electrical Engineering and Computer Science from the University of California, Berkeley and an MBA from the MIT Sloan School of Management. She lives in San Francisco with her husband.
Granular, a cloud software and analytics platform dedicated to helping industry leaders build stronger and smarter farms. He will discuss how it fits in the emerging farm management software (FMS) landscape, and outline the critical factors to consider when choosing a FMS solution.
Speaker
Biography :
Jason Tatge has been a driving entrepreneurial force behind many leading internet Ag-Tech companies over the last 15 years. He was named Pipelines Innovator of the Year in 2009 and now serves as the Pipeline Member President in addition to being a Founder/CEO and President of Farmobile. Farmobile is his third startup in Agriculture. His previous company, Farms Technology, created an electronic marketplace where farmers could sell grain on mobile devices in real-time and was purchased by DuPont/Pioneer in December of 2012. Jason's diverse background in agriculture includes: commodity trading and risk management, mobile technology development, intellectual property creation, automated hedging platform design and most recently hardware design, development and deployment. Jason firmly believes that Farmobile customers will gain knowledge more quickly by simplifying and facilitating machine data collection, peer-to-peer information sharing with other Farmobile customers and select channel partners. Additionally, Farmobile customers have an opportunity to monetize their data on the data exchange. If a farmer chooses to sell their data, profits will be split 50/50 between the farmer and Farmobile thus creating complete customer alignment.
« Return to program