InfoAg 2015 Session
Argentinian Perspective
| | |
| --- | --- |
| Moderator | : Tim Smith |
| Date/Time | : Thursday, July 30, 2015 | 10:00am - 10:50am |
| Room | : Grand Ballroom |
Speaker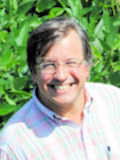 M.A.I.N.
211 Bedford Rd.
Lincoln, 01773
617-833-9254
Biography :
Adrian was educated in Switzerland, Buenos Aires, and the U.S., and graduated course 7 (molecular biology) from MIT. He returned to Argentina and worked in scientific research in legume/Rhyzobium symbiosis in conjunction with his involvement in the family ranch and farming businesses. He relocated to the U.S. in 1995 to work for I.S. Robotics (now iRobot), completing a masters degree in IT from Harvard. Currently, Adrians responsibilities include research into biofuels in the Department of Chemical Engineering at MIT, and President of MAIN (Midwest Ag Innovation Network) which he founded in 2007.
Assuming one already understands the benefits of precision agriculture, or maybe has had a vision that this is the 'way of the future'
it is often difficult to implement successfully. This is especially true if one considers a long term view, taking into account future directions. Here we present one successful path to precision Ag, with a view to future developments.
« Return to program