InfoAg 2015 Session
Closing Plenary Session sponsored by IPNI
| | |
| --- | --- |
| Moderator | : Steve Phillips |
| Date/Time | : Thursday, July 30, 2015 | 11:00am - 12:00pm |
Speaker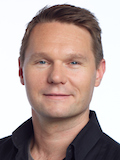 Planet Labs

San Francisco,
Biography :
Robbie Schingler is the Co-Founder and President of Planet Labs. Prior to Planet Labs, Robbie spent 9 years at NASA. He helped to formulate the Small Spacecraft Office at NASA Ames Research Center and was Capture Manager for the Transiting Exoplanet Survey Satellite (TESS). Robbie had two tours at NASA Headquarters. He served as NASAs Open Government Representative to the White House; and the White House recognized NASA as a model for openness in government. Robbie also served on the founding team as Chief of Staff for the Office of the Chief Technologist at NASA – where he incubated $650M Space Technology Program that focused on advanced technology. Robbie received a MBA from Georgetown University, a Masters of Science Space Studies from the International Space University, and a BS in Engineering Physics from Santa Clara University and was a 2005 Presidential Management Fellow. Learn more about Robbie and Planet Labs at www.planet.com and follow him and our Twitter for updates at @schingler and @PlanetLabs.
Planet Labs literally started in a garage to test a hypothesis to rethink how to build and operate satellites. If proven correct, Planet Labs co-founder Robbie Schingler and his team can achieve a new mission for our home planet that was inconceivable before: image the whole Earth, every day to make global change visible, accessible and actionable for those who need it most.
Planet Labs' satellites are tiny: 10 by 10 by 30 centimeters, with a weight of 4 kilograms. Contained in each satellite are the latest sensors and apps, which enables for what Planet Labs refers to as agile aerospace. So far Planet Labs has launched over 100 tiny satellites, and in the next year they plan to send up well over 100 more. This will be the largest constellation of Earth-imaging satellites in human history.
Ultimately, Planet Labs will not image anywhere – but image everywhere. This allows for farms in South America to be imaged as frequently as farms in Iowa. High frequency crop health images will allow farmers to better understand cause and effect and make more informed management decisions in the face of constant variability and uncertainty. The applications in agriculture are game changing: near real-time crop health monitoring, dynamic management zones, automated crop scouting alerts, yield estimation, and more.
« Return to program