InfoAg 2015 Speaker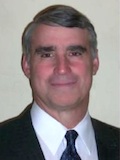 Punch Moulton
Stellar Solutions Inc.
Major General (retired), Senior Director, Innovation, & Consulting
4700 S Syracuse StSuite 1030
Denver, CO 80237
719-291-4201
Biography:
Punch Moulton is a strategist focused on cyberspace. He is currently the Senior Director for Cyber Strategies, Innovation, and Consulting at Stellar Solutions, Inc. In 2012, he retired from the US Air Force as a Major General most recently serving as the Director of Operations, U.S. European Command, in Stuttgart, Germany. His Air Force career spanned over 33 years as a fighter pilot, staff officer, and commander and included over three years assigned in Europe and eight years in East Asia. General Moulton spearheaded efforts at European Command to lead cyberspace doctrine development. Further, he initiated and nurtured pivotal public-private relationships with Silicon Valley cyber leaders in business, academia, and venture capital firms. He also inaugurated the first Joint Force Cyber Component Command in the US Department of Defense.
Presentations: