InfoAg 2015 Speaker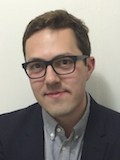 Travis Bayer
Asilomar Bio, Inc.
Chief Technology Officer
953 Indiana Street
San Francisco, CA 94107
415-629-0044
Biography:
Dr. Travis Bayer is a co-founder and Chief Technology Officer at Asilomar Bio, Inc., a company developing chemical technologies for improving crop yield and water efficiency in field crops. He is a biochemist with experience developing technologies for the agriculture, bioprocessing, fine chemicals, energy, and mining sectors. Before founding Asilomar, he was an Associate Professor at the University of Oxford. He was recently named the Most Promising Innovator of the Year by the Biotechnology and Biological Sciences Research Council of the UK.
Presentations: