InfoAg 2015 Speaker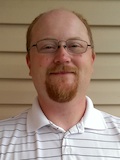 Mr. Aaron Hunt
Agrian Inc.
Vice President of Product Management for Precision
2665 N Air-Fresno Dr
Fresno, 93727
5594375700
Biography:
Aaron has been a significant influencer in the establishment of web based ag data management systems that serve as agronomic tools as well as asset management and wireless data transfer. He has lead efforts to simplify agronomic data management and application and as-applied computer file formats. Current activities are in the area of integration of precision ag data systems with the Agrian crop product, seed and regulatory tool-set.
Presentations: